EXO 3D
EXO 3D 15 minutes from Belley and less than an hour from Lyon welcomes you to fill up on sensations.
The lake is equipped with a 5-pylon cable park for kneeboarding, water skiing and wakeboarding, as well as a boat for slalom, tricks and springboard.
The cable park is accessible from 7 years old. We invite you to contact us to find out which sessions are suitable for children or beginners (reduced speed).
We also suggest that you quench your thirst and sate your hunger in our snack bar by the water.
5-PYLON TELE-SKI
620 m of sliding with obstacles

WAKE FOIL
Come get initiated to the WAKE FOIL on our wakepark
OBSTACLES
13 obstacles with a regularly renewed setup
GROUPES
Privatization, business meeting...
RELAXING SPACE
To chill out in the sun or the shade
SNACK
To quench your thirst and sate your hunger by the water
SHOP
All technical equipment and advice
Open hours
APRIL 2023
Open April 8th
| | |
| --- | --- |
| Monday | closed |
| Tuesday | closed |
| Wednesday | 14h - 19h |
| Thursday | 14h - 19h |
| Friday | 14h - 19h |
| Saturday | 10h - 19h |
| Sunday | 10h - 19h |
| Bank Holidays | 10h - 19h |
MAY 2023
| | |
| --- | --- |
| Monday | 12h - 19h |
| Tuesday | 12h - 19h |
| Wednesday | 12h - 19h |
| Thursday | 12h - 19h |
| Friday | 12h - 19h |
| Saturday | 10h - 19h |
| Sunday | 10h - 19h |
| Bank holidays | 10h - 19h |
JUNE 2023
| | |
| --- | --- |
| Monday | 12h - 20h |
| Tuesday | 12h - 20h |
| Wednesday | 12h - 20h |
| Thursday | 12h - 20h |
| Friday | 12h - 21h |
| Saturday | 10h - 21h |
| Sunday | 10h - 20h |
| Bank Holidays | 10h - 20h |
JULY 2023
| | |
| --- | --- |
| Monday | 12h - 20h |
| Tuesday | 10h - 21h |
| Wednesday | 10h - 21h |
| Thursday | 10h - 21h |
| Friday | 10h - 21h |
| Saturday | 10h - 21h |
| Sunday | 10h - 20h |
| Bank Holidays | 10h - 20h |
AUGUST 2023
| | |
| --- | --- |
| Monday | 12h - 20h |
| Tuesday | 10h - 20h |
| Wednesday | 10h - 20h |
| Thursday | 10h - 20h |
| Friday | 10h - 20h |
| Saturday | 10h - 20h |
| Sunday | 10h - 20h |
| Bank Holidays | 10h - 20h |
SEPTEMBER 2023
Monday
12h - 19h
Tuesday
closed
Wednesday
12h - 19h
Thursday
closed
Friday
12h - 19h
Saturday
10h - 19h
Sunday
10h - 19h
OCTOBER 2023
Annual closure on October 15th
| | |
| --- | --- |
| Monday | closed |
| Tuesday | closed |
| Wednesday | 12h - 19h |
| Thursday | closed |
| Friday | closed |
| Saturday | 10h - 19h |
| Sunday | 10h - 19h |
| Bank Holidays | closed |
Access
On the A43, take exit n°10 "Les Abrets". At the roundabout turn right towards Aoste. Straight on to the Aosta factory after crossing the village. Follow Bregnier-Cordon, cross the Rhône and take the first right after the bridge and before the Auberge des 3D.
(Belley 15 min, Lyon 50mn, Geneva 1h, Annecy 1h, Chambéry 30min, Grenoble 1h)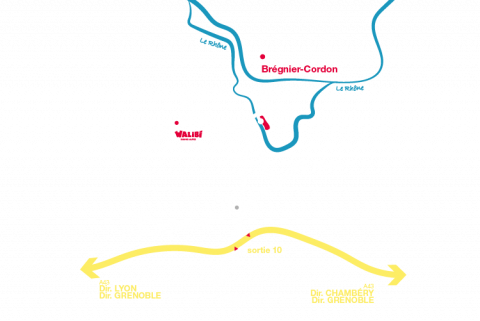 Site plan