EXO 38 - Artificial Surf Wave
First floating artificial standing wave in France ! Hydrostadium, Method and Exoloisirs have joined forces to offer you the best artificial wave technology.
The height of the wave can be adjusted up to 130cm in order to adapt to the level of the surfer. The activity is accessible from 10 years.
Whether you are more surf, wakesurf or neophyte, you will love!
5-PYLON TELE-SKI
670 m of ride with obstacles
SURF WAVE
THE artificial wave in the Alps
RELAXING SPACE
To chill out in the sun or the shade
SHOP
All technical equipment and advice
SNACK
To quench your thirst and sate your hunger at the water's edge
SENSATIONS
Accessible to all from 10 years old
GROUPS
Privatization, business meeting, birthday...
Open hours
AVRIL 2023
Open April 8th
| | |
| --- | --- |
| Monday | 10h -19h |
| Tuesday | 10h - 19h |
| Wednesday | 12h - 19h |
| Thursday | 12h - 19h |
| Friday | 12h - 19h |
| Saturday | 10h - 19h |
| Sunday | 10h - 19h |
| Bank Holidays | 10h - 19h |
MAY 2023
| | |
| --- | --- |
| Monday | 12h - 19h |
| Tuesday | 12h - 19h |
| Wednesday | 12h - 19h |
| Thursday | 12h - 19h |
| Friday | 12h - 19h |
| Saturday | 10h - 19h |
| Sunday | 10h - 19h |
| Bank Holidays | 10h - 19h |
JUNE 2023
| | |
| --- | --- |
| Monday | 11h - 20h |
| Tuesday | 11h - 20h |
| Wednesday | 11h - 20h |
| Thursday | 11h - 22h* |
| Friday | 11h - 21h |
| Saturday | 10h - 21h |
| Sunday | 10h - 20h |
| Bank Holidays | 10h - 21h |
JULY 2023
| | |
| --- | --- |
| Monday | 11h - 20h |
| Tuesday | 11h - 20h |
| Wednesday | 11h - 20h |
| Thursday | 11h - 22h* |
| Friday | 11h - 21h |
| Saturday | 10h - 21h |
| Sunday | 10h - 20h |
| Bank Holidays | 10h - 21h |
AUGUST 2023
| | |
| --- | --- |
| Monday | 11h - 20h |
| Tuesday | 11h - 20h |
| Wednesday | 11h - 20h |
| Thursday | 11h - 22h* |
| Friday | 11h - 21h |
| Saturday | 10h - 21h |
| Sunday | 10h - 20h |
| Bank Holidays | 10h - 21h |
SEPTEMBER 2023
Monday
12h - 19h
Tuesday
closed
Wednesday
12h - 19h
Thursday
12h - 19h
Friday
12h - 19h
Saturday
10h - 19h
Sunday
10h - 19h
OCTOBER 2023
Annual closure on October 15th
Monday
closed
Tuesday
closed
Wednesday
12h - 18h
Thursday
15h - 18h
Friday
closed
Saturday
10h - 19h
Sunday
10h - 19h
Access
Coming from Grenoble, to take Highway A41 direction Chambéry, taken out 24b Froges-Brignoud - 7 Laux, to cross the bridge then in the traffic circle direction 7 Laux-Allevard - Pontcharra, to be approximately 3,5 km and for the traffic circle to take direction Tencin, to continue and 50m after the marked traffic circle Tencin to turn left just after the sawmill directionparks SNCF and school complex Tencin, to cross the railroad, to take the way to the left on 1km approximately
Coming from Chambéry, to take Highway A41 direction Grenoble, taken(brought) out 23 Touvet, to take to the right direction 7 Laux-Goncelin, to cross Isère, in the red light to take to the right direction Tencin, make approximately 7 km, to cross Tencin, just after the panel Tencin taken out of urban area, to turn right before the sawmill direction parks SNCF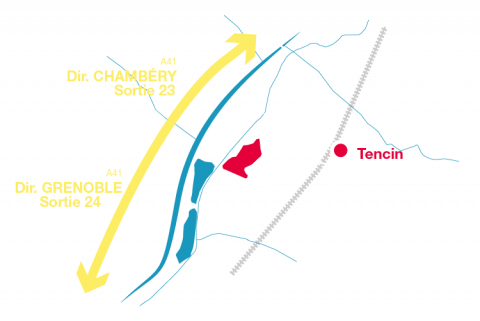 Site plan